Favorite things swap: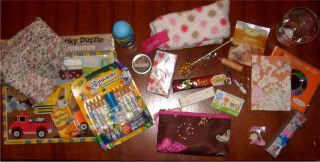 This one was GREAT! I got tangerine tea, a honey stir stick, key chain lip gloss, matchstick wild flowers, a yummy tin candle, thick warm socks, tiny colored pencils and a cute note pad to create in, a small angel, heart tissues, 3-in-1
Vietnamese
coffee that is now my favorite, a pretty glass to get my water in each day, a BEAUTIFUL gauze scarf, hand lotion, a make up bag,
Hersey
kisses, toffee and for my little guy a
Madison
Douglas
wooden puzzle, bubbles and little coloring pencils!
GREAT SWAP!


Pay it forward swap:
my partner
Beth
sent me her embellishments in this cute box and this cute card!
This is what i created for her and sent back! (my friend Debbie helped too!)