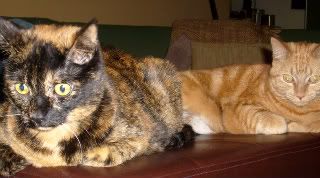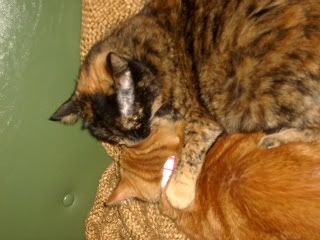 We tearfully had to say goodbye to our 2 sweet cats today. We have had these cats since my sophomore year of college- 7yrs!!! I needed a companion to keep me company that summer while everyone abandoned our huge 6
br
house that i am convinced was haunted. I went to the local animal shelter seconds before they closed and promised i would take two kittens if they would let me in to adopt one. I fell in love with Emma!! She was the only black tortoise shell calico in the litter and i loved her coloring! I was hoping they would forget and let me sneak out with just the one kitty, but obviously they didn't...
lol
. I then picked sweet Sassy that would become my favorite cat and like a child to me. We have moved our kitty's all over this great state with us not knowing that this is the last move they would make with us. We are a part of an amazing community of believers that are truly living the Gospel. This means that we have someone in our house almost every day/night. Unfortunately, several of my dearest friends are severely allergic to cats which makes the seamless intertwining of our lives hard on them. We needed to find a GREAT home for our little
furrbies
and they HAD to be taken together. Those were both super important to me. Well after posting them on
Craigslist
, we got the answer to our prayers. A super sweet couple wanted to adopt our sweet kittens and promised to love them! It was super sad to see them go- probably harder than we could have imagined- but we took comfort in knowing that they would be loved more than we could love them at this time. We will miss you sweet kitty's!!