Kelly over at Kelly's Korner does a little segment each Friday to show where you live! I have hopped on the train a little late and probably wont stick to her schedule, but i will each Friday show you a different room in my house! We are in the process of house hunting, so we will be leaving our great little apartment of 3yrs in a few months! This is a great way for me to remember the place we brought our beautiful little man home to!

Here is his sweet room!! I took a 360* view standing in the middle of his room.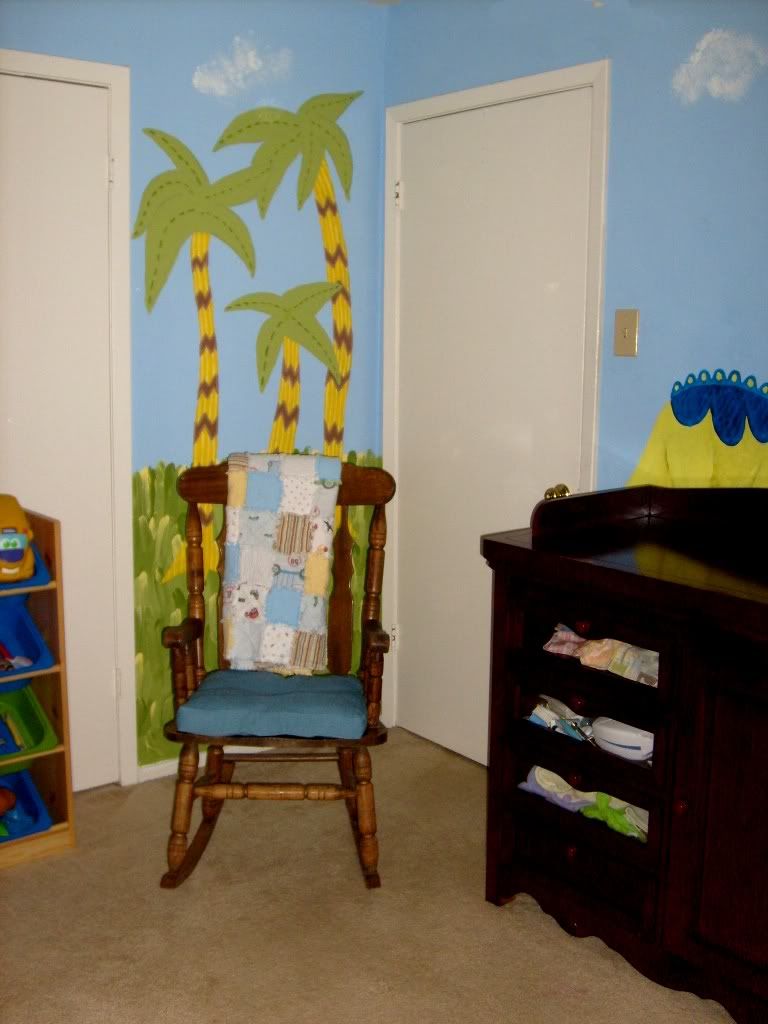 This is the door to his room on the right. This is his rocking chair that my Granny, Mimi, Mom, and I have all rocked our babies in! That quilt on the back of it is a rag quilt of all of his receiving blankets. The mural you will see all around his room was painted by my husband- isn't he so talented!!!
This is his huge closet as well as his toy bins and book shelves from Ikea that I LOVE!

This table my mom had made for little man last Christmas. It is a solid wood kindergarten size table that is beautiful cherry wood! Above the table are his hanging organizers from Ikea that have crayons and stickers in them. This is his little reading/craft corner!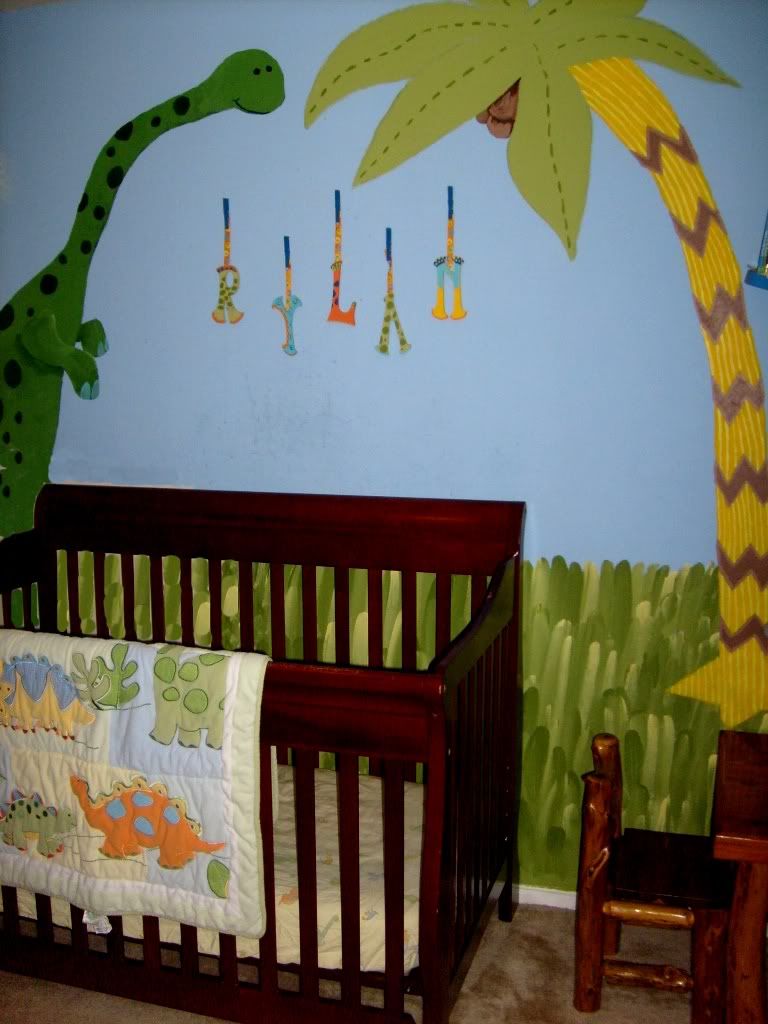 This is his sweet crib that will soon be his sweet toddler bed! You can also see his Dino bedding and the cute letters I made when I was pregnant with him!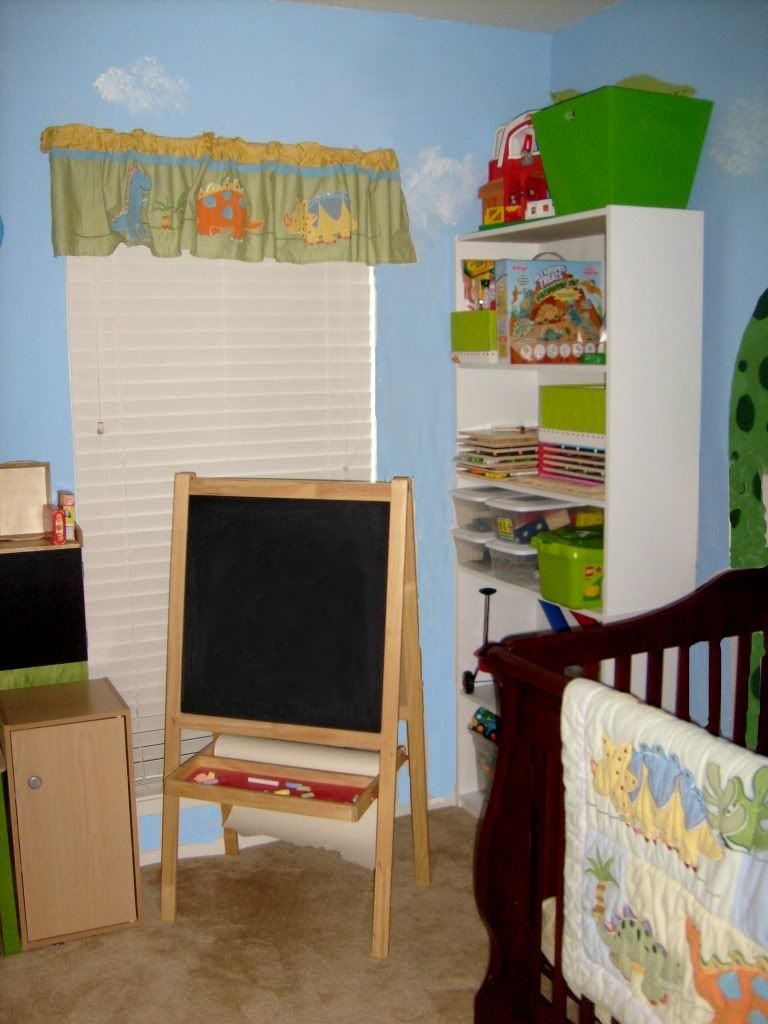 This is my attempt to organize his insane amount of "play sets" and Melissa & Doug puzzles! The bookshelf has clear plastic bins to house all the craziness! You can also see his Ikea art easel and a part of his play kitchen!

This is his play kitchen and His armoire full of clothes and blankets.

The pelican holds his stuffed animals and the cute turtle hamper is where the dirty clothes go! I made that bulletin board when I was pregnant- it has cute Dino buttons at the cross pints! That is his dresser that used to be his diaper changing station. It still houses his cloth diapers, big boy toiletries and bath goodies.



In the top drawer of his dresser, I keep all of the changing supplies! Cloth wipes, container of snappi's and pins, fleece liners, pail freshener, wipe solution, butt paste, lotion and a lavender drawer sachet.

In the cabinet part, I keep the fluffy cloth diapers!

On the top shelf, I keep his OBV Goodmama's and BSRB Overnights.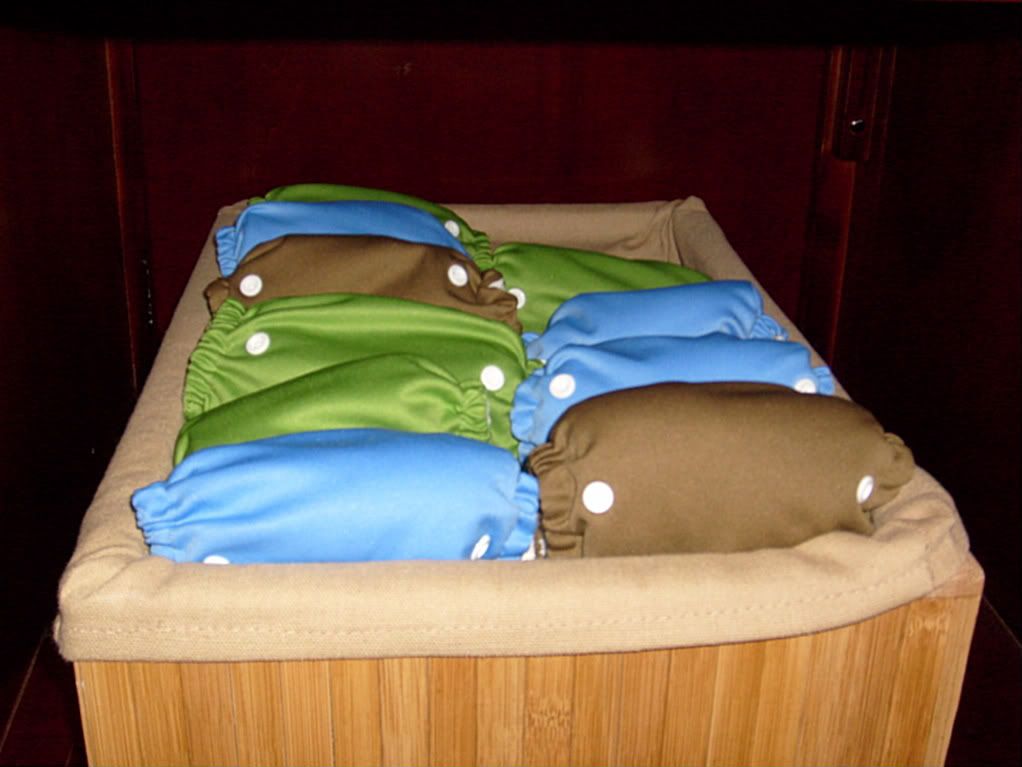 On the bottom shelf, I keep his OS Haute Pockets!
That is his room!! Click here to see my boutique craft space in our home! Next Friday I will show you our living room!